They say that you have to be lost in order to be found. Every artist strives for inner peace, and art is only a method of finding inner wholesomeness. While her art has immense artistic maturity, she has been painting only since 2007. And in those few years, she has already exhibited her paintings in several parts of the world with many upcoming exhibitions scheduled. In her own words I enter a different dimension when I paint and I do not know what the painting will become till its done. When asked how does she know then if her painting is complete, she replied It is difficult to explain that. But when I look at the painting theres just an inner feeling of completeness. I see a complete form of the thought (which made me start that painting) in the painting. Thats how I realize that its complete. She looks at each painting as a mirror that portrays herself and all that she stands for. Being a Pranic Healer, she has a strong spiritual side to herself and most of her paintings are made with the intention of spreading positivity.
Swati Pasari is a talented artist who has a distinct style of painting. Her works speak mainly about immortality, timelessness, inner stillness, peace and meditation. Although she is a young woman, still her works reflect immense artistic maturity. Painting is a reflection that portrays her inner soul. She has been painting since a long time and each of her artistic excellence is a portrayal of joy and celebrations of life. She has already exhibited her paintings in several parts of India as well as abroad.
The excellent art works and exhibitions of Swati Pasari, the young and vibrant artist has been captured by different media houses. Check out some of the media coverages.
Colors of Immortality - Ahmedabad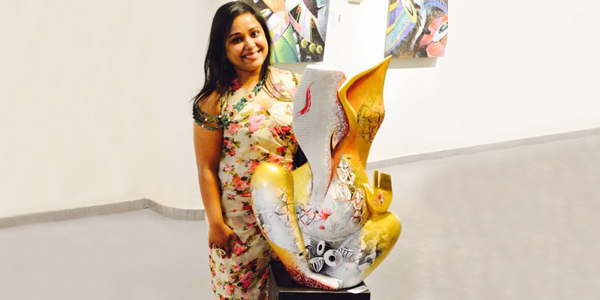 Artist Swati Pasari, exhibited her artworks in An Exhibition At Samara Art Gallery & Studio By Sonal Ambani at 7 Gadhvi Society, Navrangpura, Ahmedabad.The event was a huge success and it marked the presence of various who's who of the city... READ MORE>>
The Art Enclave - Mumbai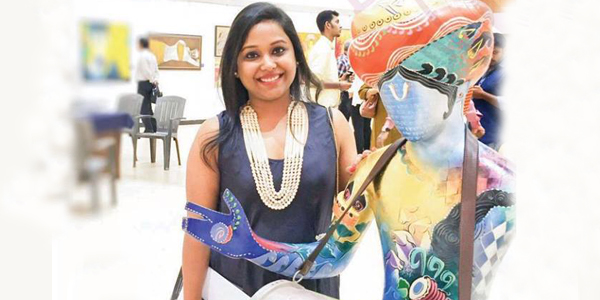 This exhibition is a collection of paintings and sculptures by artist Swati Pasari .The theme of the exhibition was immortality , timelessness and finding inner peace...
READ MORE>>
Swati Pasari is a youth enthusiast and is also a social activist. One of the most promising artists in India, Swati has a heart that speaks loud for the downtrodden people. Through her different art works, she has always tried to bring joy and happiness to everyone around her. A life well lived is a life which one lives for others - Swati's life is a true testimony to the same. Swati is deeply and spiritually connected to the holy city of Varanasi and she regularly visits a school and contributes to a hospital there. Her art is a means to raise funds for these activities.